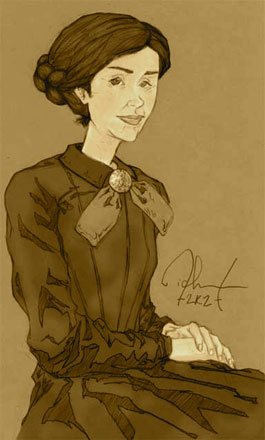 Meg's portrait from the Portland Photography Studio, June 1850
Full Name: Margaret Rebecca Clayton.

Birthdate: Monday, June 9, 1835, 6:36 A.M. in Boston, Massachusetts.

Physical Stats:
Height: 5'1"
Hair color: Auburn/reddish brown
Eye color: Hazel
Family Information: Her parents, Rebecca and David Clayton; and five siblings that include older brother, Patrick, younger sisters Sarah and Elizabeth, and younger brothers Peter and Samuel. Various animals on the family farm.
Likes: Writing, horseback riding, traveling, books and reading. Meg loves animals, especially her horse, Lightning. She keeps a daily journal of her life, and writes stories on the sly as well, hoping to become a woman writer like Charlotte Brontë, but knows of the staggering odds stacked against her. She enjoys speaking her mind, though this can get her into trouble, and likes having independence. She also loves her hometown, Boston, and misses the hustle and bustle of the city, and the family they left.
Dislikes: Narrow-minded people, the pressures of her society for young women, and disappointing her family.
Meg's Favorite Quote:
"If you are cast in a different mould to the majority, it is no merit of yours: Nature did it."
-- Charlotte Brontë